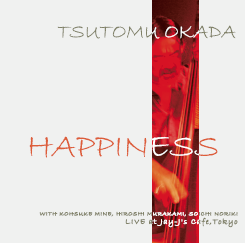 HAPPINESS
Tsutomu OKADA quartet <HIKONORIBEN Band>
1st Album
Sale on Dec. 23, 2007
TOAST label / TBCJ-07121
Kosuke MINE - tenor saxophone
Souichi NORIKI - piano
Tsutomu OKADA - bass
Hiroshi MURAKAMI - drums
The live recording by Tsutomu 'BEN' OKADA quartet <HIKONORIBEN Band>. All the members are experienced musician in Japan. We can listen to harmony of their sounds. All tracks composed by Tsutomu OKADA.
The first work from 'TOAST label' founded by Tsutomu OKADA.
Tsutomu 'BEN' OKADA - bass
Kosuke MINE - tenor saxophone (
Website
)
Souichi NORIKI - piano (
Website
)
Hiroshi MURAKAMI - drums (
Website
)




TOAST label TBCJ-07121
Recorded LIVE at Jay-J's Cafe, Tokyo
Recorded on October 10, 2007
Recorded by Shigeru SUGIYAMA
Produced by Tsutomu OKADA
Mastered at KENNEK KNOCK STUDIO
Mastered by Shigeru SUGIYAMA
Art direction by Takuya KATOH
Cover designed by Takuya KATOH
Cover photo by Shozo YUKUMOTO
Inner photos by Shoo OKADA
Copyright (C) ben-okada.com and TOAST All Rights Reserved.